Oct 21-23 2022
Bus Stop Theatre
2203 Gottingen Street
Film lineup TBD


In October 2020, the Hellifax Horror Film Festival screened 52 horror shorts over 3 days to hundreds of film fans. A screenplay competition resulted in a Top 10 list of the top new voices in horror screenwriting.  We shared the work of filmmakers from around the world – making Hellifax truly an international festival.
In October 2021, Hellifax was a three day event including in-person and online screenings, and expanded to include horror feature films in addition to genre shorts and a screenplay competition. The fest was jam-packed with the best in new horror entertainment.
Bus Stop Theatre
2203 Gottingen Street
SHORTS BLOCK 1

You Will Never Be Back, Stalker, Incarnation, Smiles, MeTube: August sings 'Una furtiva lagrima', Strigoi, Followers, Koreatown Ghost Story
SHORTS BLOCK 2

The Gloom, Hangnail, A Tale Best Forgotten, Minimally Invasive, Exit, Posted No Hunting, Bed, ALLODIUM
SHORTS BLOCK 3

Hotel Malángel, Stuck, Stranded, Standing Woman, TICKS, A Monster Origin Story, Aria, Golem, The Relic
FEATURE FILM

AN IDEAL HOST, with short WE ARE NOT ALONE
SHORTS GALA

Helena, Seek, Guts, Forgive Your Father, Inheritance, Laika, The Valravn, Stray, The Fourth Wall, Selfie
FEATURE GALA

HELLBENDER, with short film THE ARCHIVISTS
SHORTS BLOCK 4

Endgame, My Deep Dark Fears, Ballad of Sharkasaurus, Crock Pot, Intolerance, Wich, Sclera Absentia, Fractures, One, When They Come, Momma, Don't Go, Shiny New World
FEATURE FILM

CHESTERSBERG: MAKE MURDER LEGAL, with short film THE GUARD STATION

FEATURE FILM

NIGHT AT THE EAGLE INN, with short film CHATEAU SAUVIGNON: TERROIR
Our Advisory Board Members
Bente Maalen is a film producer with the production company Blaane Film, and is a founder and Producer of Ramaskrik Horror Film Festival in Norway. She had her debut as a producer with two short films in the fall of 2019 and has several feature films and tv-series in the pipeline.
An actor, director, screenwriter, dancer and choreographer born in Montreal and grew up in Truro, Nova Scotia. He is an African-Nova Scotian, most known for his directorial feature debut, Black Cop (TIFF 2017) and his recurring role on Trailer Park Boys.
Writer-director of the award-winning horror short GAME. Also the writer of the horror feature THE CORRIDOR (IFC Films), which won Josh the "Next Wave— Best Screenplay Award" at Austin, Texas' influential FANTASTIC FEST.
Donna Davies is a writer, producer, director, and owner of Ruby Tree Films. Davies has made dozens of award-winning films that have screened at festivals internationally and aired on networks such as CBC, Bravo, The Movie Network, IFC, HBO, Netflix, Hulu, Starz, and EPIX.
An experienced festival programmer and founder of ScreenAnarchy.com, Todd joined XYZ Films in 2009 as Head of Int. Acquisitions. He's served as producer or EP on a wide range of Cannes, Toronto and Sundance titles such as THE RAID, SPRING, BUSHWICK, XX and many more.

Associate Programmer –
Britney Canzi is an emerging latinx producer and writer. Professional actor/voice actor in the Film and Television industry for over ten years. She studied screenwriting at George Brown College. In 2019 she produced and acted in the horror-comedy short film 
Presents

(Gold for est Comedy – Royal Wolf Film Fest). In 2018 she produced, wrote, and acted in the horror short film

Nuisance

. 
About the event organizers
Angus Swantee is a life-long fan of the horror genre. As a filmmaker, his work has screened at over 100 festivals worlwide, winning a number of awards. After attending horror festivals in Canada and the US and discovering the close-knit horror community, he wanted to help build a similar experience for horror fans in Nova Scotia. He c0-founded Hellifax in 2020.
Some of his films can be seen on YouTube.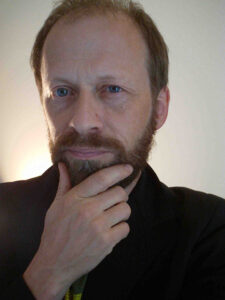 Walter Forsyth is a filmmaker, programmer, film fan and co-founder of Hellifax. He currently works for the Lunenburg Doc Fest, has programmed for the Atlantic International Film Festival, co-founded the Canadian Surf Film Festival, volunteered for the Sundance Film Fest and initiated the Halifax Independent Filmmakers Festival, now in its 14th year.
Details about his film work can be found on the website for his production company Georgeous Mistake.
Bus Stop Theatre –
2203 Gottingen Street, Halifax, NS B3K 3B5
Tickets will go onsale in October
Dec 2021 – Home for the HorrorDays special screening. Audience Award winner – Midnight Clear by director Joe Russo.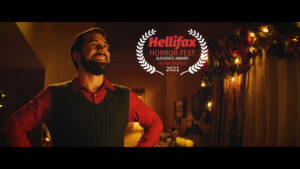 Official Selections and Award-Winners: